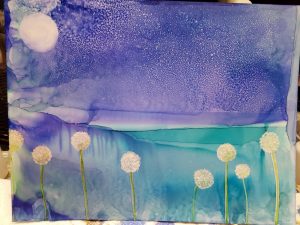 Thinking today of the season's turn. Spring is a temptress here in mid-coast Maine.  Today March winds roar yet the snow is melting, and the shadow of birches lie across what snow remains, as autumn cast offs skitter across the snowy landscape. The sun is brilliant today, luring me outside with the promise of warmth on my face, pretending no coming slap from bitter wind.  She is a fickle girl and will turn on a dime this time of year toward warmth or chill, sunny days or blizzard painted sky. But yes, she is on the move.
We opened early this year at Belfast Harbor Artisans, and I am fully stocked with lots of new work, much of it ocean oriented. We are open on the weekends until late May.  I'm looking forward to the busy season when our visitors return, searching for treasures to carry home, remembrances of summers well spent in our beautiful state.
I am mulling over what to create for the Bangor Art Society's Open Juried show in April. It's a great show open to all Maine artists.  Last year I won an honorable mention for my alcohol ink on glazed ceramic tile, entitled Summer Song. But even better was my introduction to the judge of the show, Susan Roux, owner of Roux & Cyr International Fine Art Gallery in Portland, Maine. She offered me a show, which was held in September and has since represented me and carried my work in her beautiful gallery. It has been a great experience in a lovely gallery with a very gracious owner.
I was left believing that you never know what opportunities and experiences will come your way. So, join and enter wherever you can, be ready, be open! I a not sure yet what direction I am going in with the upcoming show, but ideas are swirling around in my head and I need to get a move on.
I am also thrilled to have my page up and running and thank my husband Wes, and my sister Nancy Davies Tang of Glass Orchids fame for getting it off the ground. I will be adding lots of content soon and much of my work to view and purchase if desired. Until then wishing you joy.
Courses Run
Beneath the weight of winter's hand
New life resides with bated breath,
Though frigid wind sweeps o'er the land
The seasons turn away from death.
Ice gives way to water flowing,
Rivulets running to the sea,
Hours turn with innate knowing
Setting the ice-locked rivers free.
Crocuses, the snow resisting
As blossoms rise to greet the sun.
Light empowers, life insisting,
The turning course of time is run.
-Lou Davies James
From LaceWing Days